Events 2010
Top Events
There was a fantastic array of different events occurring across the country this year. Here is a selection of some of the biggest and the most creative.
Poole Schools
Poole Schools held their first One World Week this year and went all out with a series of educational activities on immigration and the global community leading up to a rally in Poole park. For a first event it was truly huge with more than 2,000 children turning up to celebrate the final day. A fantastic triumph and a great experience for all the teachers and students involved.
Chester Hospital
Chester Hospital Chaplaincy got really involved this year with the Spiritual Care Centre turned into a One World Week area for people to learn about global justice issues. It was great to see the Chaplaincy adopting One World Week; we'd really love to see more of this multi-organisational approach.

Cherry Tree Nursery - Bournemouth
A week of different events including tree plantings, lectures and film screening all based around a peace theme and with a permanent exhibition on different peace-building operations abroad. A wonderful and unique approach to One World Week.

YMCA Swansea
Swansea's YMCA had a completely new approach to One World Week, focussing on a residential weekend for young people with the aim of exploring ideas of peace and justice. The weekend was by all accounts a fantastic success with a range of exciting physical activities as well as discussion and meditation. Every response has been positive and everyone felt that they learned a huge amount. Perhaps you might think of organising such an intensely focused event in future...
Luton
One of the most successful Inter Faith weeks, Luton One World Week featured an evening of amazing performances including dance, theatre and song from the various diverse communities of the town. The participants also enjoyed an interfaith walk through Luton during which the reflected on the theme of peace and what it meant to them.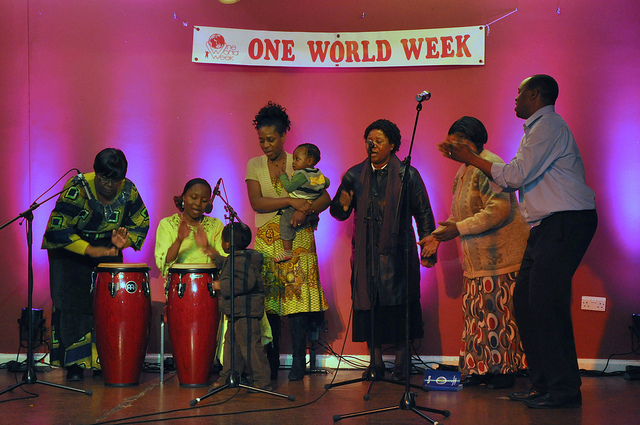 Redbridge
In Redbridge there were loads of events taking place throughout the week featuring representatives from all of the area's diverse communities.  Highlights included multicultural social evenings, peace building workshops and an exhibition on forgiveness.
Loughborough
Loughborough's organising group worked very well with other members of the community to create one of the largest, most varied One World Weeks of the year.  The organising committee worked hard to spread the word about One World Week to other local organisations and to make contact with other development education events happening in the same week.  They included local theatres, faith groups, scout and guide groups, and the Loughborough Council of Faiths by telling others about the goals of One World Week and encouraging them to include the theme in their pre-existing events.  A great way to reach out to the community and expand a local One World Week.
­Stevenage
Stevenage's One World Week also made good use of the schools with a group of 1,200 children exposed to Aboriginal, Chinese, South African, and Jamaican culture through a hands-on assembly.
Mere
Mere held its first ever One World Week and it was a total success!  The town was host to a One World Fair with a number of different organisations setting up information and fundraising stalls.  All food and raffle prizes were fair trade and had a One World theme.  As the event brought together so many different people and organisations, it seems like Mere is destined to hold many more fantastic One World Week events.
Theme: PEACING TOGETHER ONE WORLD
The UN "International Decade for a Culture of Peace and Non-violence for the Children of the World" ended in 2010. One World Week used this as the focus for our 2010 theme, 'Peacing Together One World' : we explored ideas relating to "Creating a Culture Of Peace" that could be used events and provided ideas about how to develop these into activities. under Practical Guidance .
UNESCO defined eight action areas for the Decade, recognising that each would contribute to building a culture of peace for our children.  One World Week concented on the three areas most closely related to it's vision and aims:
Promoting sustainable economic and social development

Promoting respect for all human rights

Advancing understanding, tolerance and solidarity
We identified several levels at which a culture of peace could be established:
through personal inner peace;

peace within the family;

harmony within the community, between communities and across faiths;

justice and non-violence on a global scale.
One World Week provided a range of resources,(see resources section) ideas and these questions to consider when planning events:
What is a culture of peace?
What is inner peace and is it important?

What can we do to help establish peace in our homes, our schools, our local communities?

Is peace possible without justice?

How can we live our own lives sustainably? What can we do to support sustainable development with economic and social justice globally?

How can we fulfil our responsibilities to respect human rights?

What can we do to advance understanding, to move beyond tolerance to respect, celebration of diversity, friendship and solidarity?

What kind of world are we creating for our children – one filled with fear, conflict and injustice or one based on respect, caring and cooperation?
For more about UNESCO's programme for a Culture of Peace go to: http://www3.unesco.org/iycp/uk/uk_sum_cp.htm
Click here for the "Peacing Together One World" leaflet.
Videos and photos of events
Do you have any photos and videos of 2010 events you could share by putting them up on the website ? There are a few in the photo gallery but we'd wecome more including video clips.
Please do continue to send in photos, articles and video clips and we shall attempt to put them onto the website.
The best way to do this is to email them to the office giving clear references where necessary.
For more information on video clips go to Video Challenge.