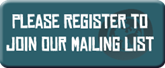 Login
FAQ
How can I publicise our local OWW Event on the site?
We only allow registered users to submit OWW events to the site, (in an attempt to keep the site as spam free as possible). Registration is free and by registering you also get our regular newsletter, and you can also suggest useful links to the site. In addition to being registered you must also have logged in. Once logged in you can add your event here. If you would like to register, then please complete this registration form.
How can I share my photos of our local event with other site users?
We'd love to have photos of your events for our gallery section. Registered (and logged in) users can upload their photos to us using this form. Please be sure to submit information with your images - titles and/or captions, copyright info and a title for the set of images that you are uploading. Please only upload JPG images! We reserve the right to decided whether or not any uploaded images are suitable, and to decide whether to publish or not. By submitting your images you are giving OWW permission to use them in our publicity material, where all images used will be credited to the individual.
I have not received a response to my query.
Webber Design are the administrators of the One World Week site and any technical queries sent through regarding the site are directed to us. Our office is open from 9am until 5pm on Monday to Friday. Any questions sent through during this time will be dealt with as we receive them, however if any queries are sent during the weekend or after 5pm on Friday, these will be answered first thing on Monday morning.
Should I be worried about having my contact details on the site?
We have anti-spam technology set up on the site so even if your email address can be seen on screen, these details are not readable by spam-bots. We have done everything in our power to make sure that the site is protected and safe against spammers, however no system is ever 100% safe, not even the Pentagon!
News
Call For Climate Action
For the love of each other, this spring, we are standing with over 100 organisations to call for climate action for the sake of all the things that matter most.
For the love of the food on our plates. For the love of our global neighbours. For the Love of Somerset, the Arctic and the Great Barrier Reef. For the love of country walks and Britain's beautiful seasons.
For the love of all the things we care about, we're taking climate change seriously. And we're not alone.
It's time to stand up, for the love of each other, and demand action.
Will you share what you love? (www.fortheloveof.org.uk)
For the love of video
Press Releases
Newsletters
Recently Added Resources
 2014 - A worship resource from CAFOD - Call of Creation - A PowerPoint for  reflection (added 25 September 2014)
Faith and School resources for 2014: School Assemblies on Living Differently
(added 18 Sept. 2014)
 Press Release Template for publicising your event 2014 (word.doc) (issued 30 Sep.2014)
2014 Theme summary: A4 with 2xA5 single sided leaflets to down load and print for use at planning meetings as an alternative to the full annual leaflet.  

(added 23 April 2014)