Categories: News
      Date: 08-05-2012
     Title: Green Economy or Trojan Horse?

refers to WDM Briefing paper on two competing visions of a future "Green Economy"



 

The World Development Movement has produced a briefing pa
per which helps us to unpick one of the key issues which arose at the Rio+20 summit in June 2012.
Twenty years after the original 1992 UN Earth Summit, the world again gathered in Rio de Janeiro to discuss the future of sustainable development. A key objective of the summit was to chart the way towards a green economy. 
The notion of a green economy may sound good, but the problem is that no-one has agreed what this actually means, allowing big business and the financial sector to define it in a way that reflects their interests.
We might expect that, in a true green economy, the limited capacity of the planet would be respected and the obsession with economic growth and unsustainable consumption replaced with a focus on how everyone's needs can be met in a truly sustainable manner.
But this is not quite what a number of governments, banks and multinational companies are promoting.  Their false version of the green economy entails the privatisation and commodification of the natural world through market based mechanisms.
WDM warns that we need to look very carefully at the vision of the False Green Economy proposed by the rich countries and their corporate lobbyists at Rio. It is likely to favour corporate profits rather than protect the planet and provide sustainably for its people.
"The Rio+20 summit risks being hijacked by corporate lobbyists and their supporters in rich industrialised countries, including the UK government, who want to subject nature and ecosystems to the whims of the market.
Using 'green' language as a cover, rich countries are lobbying for new markets to be created in biodiversity and ecosystems – common goods that we all need and enjoy. If successful, this could have wide ranging consequences, including the destruction of livelihoods, the corporate confiscation of land and the extinction of species for the profit of a small number of wealthy individuals and companies."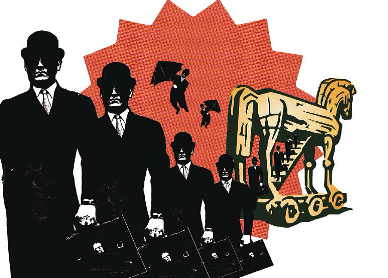 Click on the Trojan Horse to read the full briefing paper in WDM's website 
   WDM's image of the "Trojan Horse" at Rio+20