OWW 2007: ALL TOGETHER NOW
We are all waking up to the understanding that our way of life is under threat from:
Climate change, caused by the way of life that has developed in industrialised countries over the last two centuries, set to overwhelm the lives of some of the most vulnerable people already threatened by floods and drought; economic injustice continues to divide people and destroy livelihoods; conflict and fear.
Fear and conflict undermine social relations, our liberty and, in many places, threaten lives. We ALL have to address these challenges TOGETHER. We need to do it NOW. All because it will take all of us, everyone, everywhere, to work to secure a sustainable and peaceful future for all. Together because only together can we share understanding and responsibility for the future. Now because now is the critical time to act to stem climate change; now is the time to seek shared understanding between diverse communities.
We hope that this year's theme, ALL TOGETHER NOW, will inspire you to take action in One World Week 2007 and throughout the year. Now is the time to unite behind the belief that ALL people matter; ALL life matters; the world is abundantly diverse. Now is the time to act; to cut waste and share more equally the world's abundance.
ONE WORLD WEEK 2007: ALL TOGETHER NOW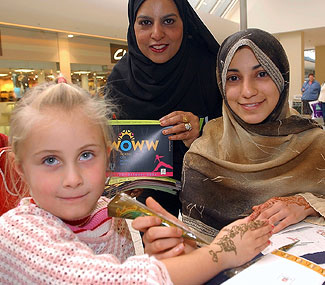 Embracing ALL, learning TOGETHER and acting NOW.

All people, all life, all matter; the World is abundantly diverse.
Together, everyone and everything is included; acting as one we are stronger.
Now is the time to act; to cut waste, sustain and share more equally the World's abundance.
DIVERSITY
All people and all living things are unique; together, they build a rich cultural and ecological diversity worth sharing and enjoying. Ecological diversity binds the web of life together. We have depended for too long on one kind of energy. Now we need to diversify to survive.

"We all should know that diversity makes for a rich tapestry, and we must understand that all the threads of the tapestry are equal in value no matter what their colour."
Maya Angelou (Contemporary American Poet)
INCLUSION
All people and all living things depend on each other; together, they provide a frame in which life can exist and grow. Together we need to share understanding and responsibility for the future.

"We cannot turn globalisation back. Our challenge is to make globalisation an instrument of opportunity and inclusion -- not fear and insecurity. It is time to realise we live together in one world, not two - this poverty is in our community wherever we live. It is our responsibility."
James Wolfensohn (Former President of the World Bank)
ABUNDANCE
All people and all living things depend on the Earth's resources; climate change threatens those resources. We all need to act together now to reduce waste and conflict. Together we can learn to share resources more equally and create aworld where all life is respected and celebrated.
"The test of our progress is not whether we add to the abundance of those who have much. It is whether we provide enough to those who have little."
Franklin D. Roosevelt (US President 1933-45)
OUR RESPONSE
The All Together Now theme for 2007 calls us to do just that: to work together with others. The issues of climate change, economic justice and communities living peacefully together are of concern to us all. We can only address these challenges if we do act all together. We can make a much bigger difference to future outcomes if we begin to act now. One World Week is an opportunity, a space in which we can meet up, share concerns, hear each others' points of view and acknowledge shared values.
EMBRACE ALL
• understand, respect and work with all people in your community
• celebrate our common humanity
LEARN TOGETHER
• stage local events that help people understand more about the diversity of life on Earth and empower people to work together for an inclusive and diverse world fit for this and future generations
• work with those who are also striving for a better world for all
ACT NOW
• for everything you need to learn about and take action for a fairer world this year and beyond
• choose a lifestyle that reflects care for the Earth, its resources and all life
Some OWW 2007 Events
OWW challenges us all - together - now to make a positive difference in our communities and across our world by embracing ALL, learning TOGETHER and acting NOW
There are lots of ways to rise to this challenge:
• library display or exhibition
• global food Suppers
• acts of worship
• Fairtrade stalls
• topical talks and discussions
•have fun: activities, drama, dance, games, competitions, quizzes

Below is a sample of events to inspire you in your planning for OWW 2009...
Date in 2007

Venue

Details

24 September, 6.30 - 8.30pm

Lutterall Room, County Hall, The Crescent, Taunton.

Launch of Somerset Faith Forum, formed to help people find out more about the different faith groups in Somerset. Exhibitions and displays on the different faiths; presentations from each faith group.

Food, teas, coffees and soft drinks were provided.

21 October, 6.00pm

New Oriel Hall, Larkhall, Bath.

Unitarians Service based on OWW theme, 'All Together Now'.

24 October, 7.30 pm

BRLSI, 16-18 Queen Square, Bath, BA1 2HN.

A Talk: 'Civilians killed in war; What do we know? ; What should we know?' Prof. John Soboda.

 

25 October, 7.15pm

Bath University Chaplaincy

Meriol Trevor Memorial Lecure: 'Modern Slavery & Children's Rights' Fr. Shay Cullen. Admission was free

 

27 October, 7.30 pm

Banqueting Hall of the Guildhall, Bath

Bath International Evenin.

A celebration of the diverse ethnic and cultural communities among Bath's population, with food tasting, music and fun!

28 October, 6.30 pm

Batheaston Churches in Partnership (BCIP)

Service on OWW's theme 'All Together Now'

 

29 October, 7.00 pm

BRLSI, 16-18 Queen Square, Bath, BA1 2HN

UNA AGM; followed at 7.30 by a talk, 'Himalayan Visions of Happiness: travels in Bhutan, Sikkim and Tibet' by Dr Nitasha Kaul

 

21 October, 11.00 am

 

Church of Scotland Dennistoun New Parish Church, 9 Armadale Street Dennistoun. Glasgow. G31 2UU

'All Together Now' - morning worship conducted by the Fairtrade Team. Fairtrade tea/coffee/cake was served after worship. All were welcome.

27 October, 10am - 1pm

United Church Hall, South Street, Dorchester.

 

One World Week Fair 2007

Theme: Climate Change

Fair Trade Coffee - Brilliant Stalls - Useful Information.

20 October, 12.00 -4.00 pm

Duddingston Kirk Hall, Duddingston Road West. Edinburgh

 

International Arts and Crafts Fair

Entrance was free.

23 October

24 October

25 October

Portsmouth Libraries

To help celebrate OWW in Portsmouth, libraries had African storytelling sessions.

23 October, 7.55

21 South Street, Reading

 

This was an opportunity in OWW to join the Reading Circle Dance Group which dances to music from all over the world. No experience was needed for these dances - many of them symbolise peace, co-operation and harmony.

21 October, 3.00 pm

Stephen Hill Methodist Church, Crosspool. Sheffield

Ecumenical Service with speaker Martin Drewry, Director of Health Unlimited.

28 October, 4.00 pm

Thatcham Parish Hall

Thatcham One World organising team held an event to commemorate the end of One World Week by celebrating the broad cultural, national and religious groups who now make Thatcham their home.

9 October, 7.30 pm

United Reformed Church, Chapel Street, Thornbury, South Glos.

"All Together Now" Speaker Bishop Mike Hill, Anglican Bishop of Bristol

Information and Fairtrade stalls - Refreshments

Open to all — admission was free

21 October, 9.15 am, 10.45 am, 11.00 am

Thornbury Churches

One World Week was the theme at the following Church services at:

St. Paul's: 9.15

St Mary's: 10.45

The United Reformed Church: 11.00am.

24 October, 7.30 pm

St. Mary's Church Park Road Thornbury South Glos.

"Inhuman Traffic" drama looks at the history and modern perspectives of slavery.

Performed by Spaniel In The Works Theatre Company

Admission was Free

21 October

Civic Hall, St. Stephens Place, Trowbridge, Wiltshire, BA14 8AH

West Wiltshire Interfaith Group covered issues of respect and living in harmony and also talked about justice and economic prosperity in our Global world.

21 and 28 October

Wimbourne

Churches Together in Wimborne had two united Services and various activities during the week.

 

14 July

Witham

Witham held an ecumenical event entitled 'A Taste of Africa' linked to One World Week, organised by a family of Nigerian descent now living in our community. They involved other African friends and over 200 people attended. There was worship, music and drama and a costume parade. We learnt about different parts of Africa and some of the African projects that people from our community are involved in. A buffet of African dishes was served by Africans in traditional costume.

25 October, 11.30 am

Worcester

The Angel Centre, Angel Place, Worcester City, WR1 3QN

All Together Now Worcestershire!

Registration was from 10.30am.  2pm finish (INCLUDING LUNCH)

The WAIFS (Worcestershire Active Inclusive Forum and a few strays….)
presented: All Together Now Worcestershire!

Aims were to understand why we as a (diverse) group of people came to Worcester, to celebrate One 'Worldness' and to creatively start the dialogue on understanding each other better so that we could build a way of honest communication and an environment where we could discuss sensitive and difficult issues more openly.

The day formally launched WAIFs and we hoped to meet regularly, with a focus on making Worcester a safe place to live for all. The event was free [however donations were welcome to enable future events].

The event was supported by Worcestershire County Hall and One World Week.

PLEASE NOTE: A CRECHE WAS AVAILABLE ON A FIRST COME FIRST SERVED BASIS.