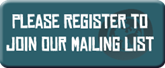 Inter Faith Guidelines
2016 Theme: "Including You"
Working Together for One World in Peace.
The reactions to the terrorist attacks and to the arrival of refugees in Europe in 2015/16 suggest that OWW needs to draw on our tradition of seeking to bring people together to hear each other's perspectives and share common values.  The current situation calls for us to redouble our efforts to pursue this agenda by encouraging groups to work together locally to inspire citizens and each other to build a culture of inclusion.  
The theme title emerged from the fact that everyone is affected by current issues around migration and refugees, diversity and inclusion, including extremism and Islamophobia.  Locally and globally, our society needs to address these to enable us all to live together in peace.
We have produced a booklet (8pp) with suggestions for interpreting the theme. It addresses the following:
Background and context
How can we build a culture of inclusion?
What can we do through OWW events?:
1. Encourage people to look at the context of migration in various ways
2. Take inclusive action
3. Link with OWW's partners' actions and campaigns
4. Welcome refugees
5. Counter Islamophobia, Antisemitism and other manifestations of religious discrimination and racism
6. Engage people who have little contact with refugees and diverse communities
You can download the latest version of the booklet here (PDF version)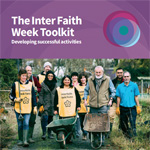 The Inter Faith Network published on 16 May 2016 their "Inter Faith Week Toolkit" with all sorts of suggestions for events and activities.
Your OWW group might want to take part in these during Inter Faith Week (13 - 20  Nov. 2016) or use some of the ideas to organise an event during One World Week addressing issues of diversity and good community relations, which are a crucial part of building a culture of inclusion to enable communities to live in peace together. 
 Download the Toolkit from the Inter Faith Network website here
Hope in Action - 
Inspiring a culture of hope 
to build a more equal and peaceful world
The  2015 theme sought to inspire people with hope that the actions we take together can be effective and worthwhile and a booklet about the theme has lots of suggestions of ideas, examples and links to useful websites. (download the booklet here : pdf version here or a Word.docx version here )
The issues we need to address to secure peaceful sustainable co-existence include climate change, economic justice and communities living peacefully together.  We can  only address these challenges if we do act TOGETHER.
We can make a much bigger difference to future outcomes if we begin to act now.
One World Week is an opportunity, a space in which we can meet up, share concerns, hear each others' points of view and acknowledge shared values.
In order to involve people of various cultures and faiths we need to find a way of contacting and meeting them. While some OWW organising committees have included people from many religions and cultures for years, others have found it much more difficult.
These suggestions aim to help you approach people and organisations appropriately and help to smooth the way in what can be a sensitive situation.
• to see our top tips page, including a new printable resource to aid your inter faith planning, click here
• to see our inter faith resources, click here
OWW welcomes events held by people of all faiths and no faith
Many people still see OWW as a Christian-based organisation. It may be important to explain to organisers and volunteers that:
OWW has changed from pursuing a development education agenda with the Christian Churches under the auspices of the World Development Movement (in the 1970s), to a more broadened perspective to involve people of many faiths, cultures and ethnicities in its events, management and preparation of resources.
Since 2005, OWW has been an independent Charitable Company engaged in development education. It has gone beyond its Christian roots. This is reflected in the variety of types of events in the UK and around the world and in the increasingly varied composition of the trustees, staff and local organising committees. OWW is non sectarian and non political.
We still very much welcome all the OWW Church events are held throughout the country, and support these with a range of worship resources commissioned annually. We are indebted to the loyalty of our organisers, many from the Christian community, who have enabled OWW to have such a long and fruitful life! We hope that such volunteers can demonstrate their neighbourliness through passing on their knowledge of OWW to other Church and faith groups.
Please visit About OWW and Our Vision for futher information.
Booklet: 'Building Local Bridges Together to Address Shared Global Concerns'
Read the following case studies featured in the 'Building Bridges' booklet:
Setting up a new multicultural group
How do I organise an inter faith event for OWW?
Please visit our 'Form a new local OWW group!' page for general advice on organising and planning a OWW event. The following tips relate more specifically to the inter faith context.
You could start by approaching one or more of the following, to ask about inter faith activities in your local area:
Your nearest local inter faith group (see box below).
Your nearest local race and equality network organisation – your local authority should be able to put you in touch (mainly in urban areas).
Your local community's coordinating body for voluntary organisations (find your local contact at National Association for Voluntary and Community Action (NAVCA) can advise on contacts).
Set up a meeting to plan an interfaith OWW event
Try to involve the inter faith group and/or representatives of cultural groups in the planning process so that everyone has a sense of ownership and responsibility for its success.
Choose the day and date carefully to ensure that people with religious obligations and festivals are not excluded - see http://www.interfaith.org.uk/local/calendarmatters.htm for further inforamtion
The Inter faith Network

The Interfaith Network (IFN) shares many values and ways of working with OWW.
"...founded in 1987 to promote good relations between people of different faiths in the UK...It works with its member bodies to help make the UK a place marked by mutual understanding and respect between religions where all can practise their faith with integrity...The Network's way of working is firmly based on the principle that dialogue and cooperation can only prosper if they are rooted in respectful relationships which do not blur or undermine the distinctiveness of different religious traditions." Find out more at www.interfaith.org.uk
The Inter Faith Network's website has information including email contact addresses for regional and local interfaith bodies.These can be found in the members section of the Inter Faith Network website here 
You can also buy a copy of the most recent interfaith directory: Faith Organisations in the UK: A Directory. ISBN 1 902906 31 4 Price £8.95. Available from the Inter Faith Network at £11.00 (including £2.05 postage and packaging). Please contact the Network to place an order.
What if there isn't a local Inter Faith initiative in your area? You could start one! www.interfaith.org.uk/local/gettingstarted.htm has suggestions to help you.
What does an inter faith event look like?
Working with an inter faith group does not mean that the events have necessarily to be focussed on faith – OWW events essentially combine inclusiveness with celebrating diversity and the exploration of serious issues with having fun together.
A characteristic of a OWW event is that it also has a global dimension.
The Inter Faith Network's website identifies a wide range of local inter faith initiatives bringing groups and individuals of many faiths together to: address faith and civic issues.
Explore them to see what is possible on www.interfaith.org.uk/local/civicevents.htm - there is a section about environmental projects for example.
An example of a OWW inter faith event:
We held a special event for One World Week: "Peace Depends on Dialogue". After an introduction by the Group's co-ordinator, there was Indian classical dance, lighting of candles by invited individuals of the different faiths, a presentation from a Muslim specialist in inter faith relations, and a question period. The event also included songs and a special prayer for peace.
Drama can be a good way to bring people together - either as participants or as an audience - see our OWW
Visit our resources section for ideas.
Please go to our events pages for further inspiration.
Can I hold a OWW inter faith event which includes worship?
Some groups will want to celebrate and think in the context of worship. The anthology is an example of what may be prepared for the Christian tradition.
You may wish to develop your own anthology for other faith traditions or to develop this for an inter faith context. This will require very careful consideration, such as thinking twice about holding an inter faith event in a religious venue.
The Inter Faith Network website, [www.interfaith.org.uk], has invaluable reflections and guidance about organising any event involving "Prayer and Worship" that is sensitive to the various traditions.
Prayer is included in the activities of many inter faith groups and councils – but not usually joint spoken prayer. More common is:
shared silent prayer or meditation
a pattern of sequential offerings of spoken prayers and readings from members of different faiths to which others listen, but in which they do not actively participate; rather, prayer is offered individually by members of the gathering in a way which respects the integrity of each tradition.
When spoken joint prayers are used, there can be a danger that people may find themselves voluntarily or involuntarily joining in what appears to be worship of a divinity who is not recognisably as they understand the divine, and feeling pressed to do so even though they would prefer not to.
Nontheists (such as Buddhists) can be put into an awkward situation by assumptions that all religions acknowledge a Divine Being.
Likewise, for traditions where the Divine is understood wholly or partly in feminine or in impersonal terms, the constant use of masculine or personal terms may prove alienating.
Given these possibilities for misunderstanding and offence, it is important to sound out carefully how individual members feel about shared spoken prayer, before it becomes part of a group's life.
Joint acts of reflection or commitment
Generally, local inter faith bodies do not hold events which would be described as 'worship' because, for reasons akin to those described in the previous section, members of many of the faith traditions would find it inappropriate to join in such acts.
It is more common to hold events during the course of which religious readings or reflections may be included but on the kind of basis discussed under 'sequential prayer' in the section above. The Act of Reflection by the Faith Communities of the United Kingdom is an example of this at http://www.interfaith.org.uk/rcommit.htm

The word 'service' tends to be avoided for such events to avoid the impression that a worship service is intended.
An example of a OWW inter faith Act of Reflection
This model is based on an idea and event which took place in Newport in South Wales in 2010. 
Each of (say) 10 faith groups is invited to offer 3 minutes (depends on how much time you have and how many faiths are represented) based on the OWW theme.
The seating can be arranged in a circle and each group presents their 3 minutes' worth. Contributions could range from a reading, a dance, a meditation, a poem, a song, a prayer, a visual presentation (eg a mini PowerPoint) or whatever they feel might be appropriate, relating to the OWW theme.
It would be good to conclude by doing something together e.g. - saying together the Joint Act of Commitment (see below).
A double greeting circle* can  work well to introduce people to each other in a random way before enjoying refreshments together and interacting informally.
*        Form two concentric circles of people facing each other, circulate in opposite directions, stop, introduce yourself and greet the person opposite you. Repeat the circling and stopping as desired. This can also be done to music.
You can copy the Act of Commitment here (or below). It would be very appropriate for closing a meeting about the kind of themes addressed in One World Week events.
Act of Commitment
Faith community representatives:
In a world scarred by the evils of war, racism, injustice and poverty, we offer this joint Act of Commitment as we look to our shared future.

All:
We commit ourselves, as people of many faiths, to work together for the common good, uniting to build a better society, grounded in values and ideals we share:

Community, personal integrity, a sense of right and wrong, learning, wisdom and love of truth, care and compassion, justice and peace, respect for one another, for the earth and its creatures. We commit ourselves, in a spirit of friendship and co-operation, to work together alongside all who share our values and ideals, to help bring about a better world now and for generations to come.
http://www.interfaith.org.uk/rcommit.htm
Walks and visits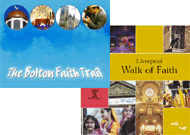 Another idea on the IFN website is arranging visits to particular local places of worship to learn more about the faith in question.
A variation was tried in Swansea for OWW where a parade with banners about the year's theme visited each place of worship in turn. Liverpool and Bolton have each produced booklets of faith trails or walks.
Visit the OWW photo gallery for Portsmouth's 'Walking Together" version of an inter faith walk.
Events involving young people:
The Inter Faith Network has an ongoing project: "Connecting for the Future: Young People and Inter Faith Relations". It encourages young people to get involved with inter faith activity and bridge building between communities. . It has a useful publication designed for young people: Connect, Different Faiths, Shared Values.
More at: www.interfaith.org.uk/connect

You could also approach your local SACRE (Standing Advisory Council for Religious Education); which all local authorities have; see if they would get involved with a OWW event.
Other useful links:
Home Office: Helpful advice on faith community perspectives on participation in joint events with a prayer or worship dimension can be found in pages 45-60 of the Home Office Document Working Together: Cooperation Between Government and Faith Communities.(pdf) Source: www.interfaith.org.uk
Black Environment Network: http://www.ben-network.org.uk/ BEN is established to promote equality of opportunity with respect to ethnic communities in the preservation protection and development of the environment.